4 Drawer Caddies...Check them out!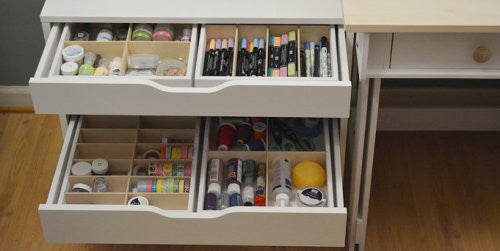 Have you heard the exciting news?! ....We are introducing FOUR new drawer caddies!! 
We're SO excited!! Organizing has reached another level, yet again! These Caddies are designed to work perfectly in the Alex drawer units by Ikea. (although you can use them practically anywhere) All wood construction makes these very durable yet lightweight. Two of these will easily fit in the wide 6 drawer Alex unit. One works great in the narrow 6 drawer cabinet. Now you can remove those drawer items all at once and take them to your worktop with ease. Of course, these organizers also looks great on a shelf or desktop too! Do you travel to stamp clubs, scrapbooking parties, or even host crafting events? Then I bet this would be perfect!
Check out how useful these caddies can be...
Here is a pic of the caddy in the drawer. 
And when you're ready to use the supplies in the caddy, just pull out the whole organizer! No more digging through all your things and trying to carry them to our work space, just take the whole organizer with you!
The caddies make it SO much easier to carry around your crafty items...especially when using markers, pens, pencils, etc. 
So are you finally ready to see the FOUR drawer caddies!?
Here they are...
Meet the 4 Cubby Drawer Caddy! This organizer is perfect for storing all your smaller crafty items that need to be organizer such as glue, thread, paint, small scissors, and more. 
Next up, the 6 Cubby Drawer Caddy. As you can see, this organizer is great for storing spray mist bottles, glitter, embossing powder, and much more! 
The 8 Cubby Drawer Caddy (you're probably starting to see a pattern with the number of cubbies) This organizer can be used for anything, but the great part about this organizer is that it can hold AND organize all those colorful markers! Anyone who likes to sort their markers by color would absolutely be in heaven with this organizer! 
Last but not least, the 14 Cubby Drawer Caddy! Washi Tape, glitter, practically any small item can be organized in this caddy! We also have Washi Spacers that can raise your washi tape so that it's easier to grab. Check out our blog about the spacers here.
I hope you've enjoyed reading about our newest organizers!
Happy Organizing!
Share a comment
Comments will be approved before showing up.