DIY Card Hanger Kit Instructions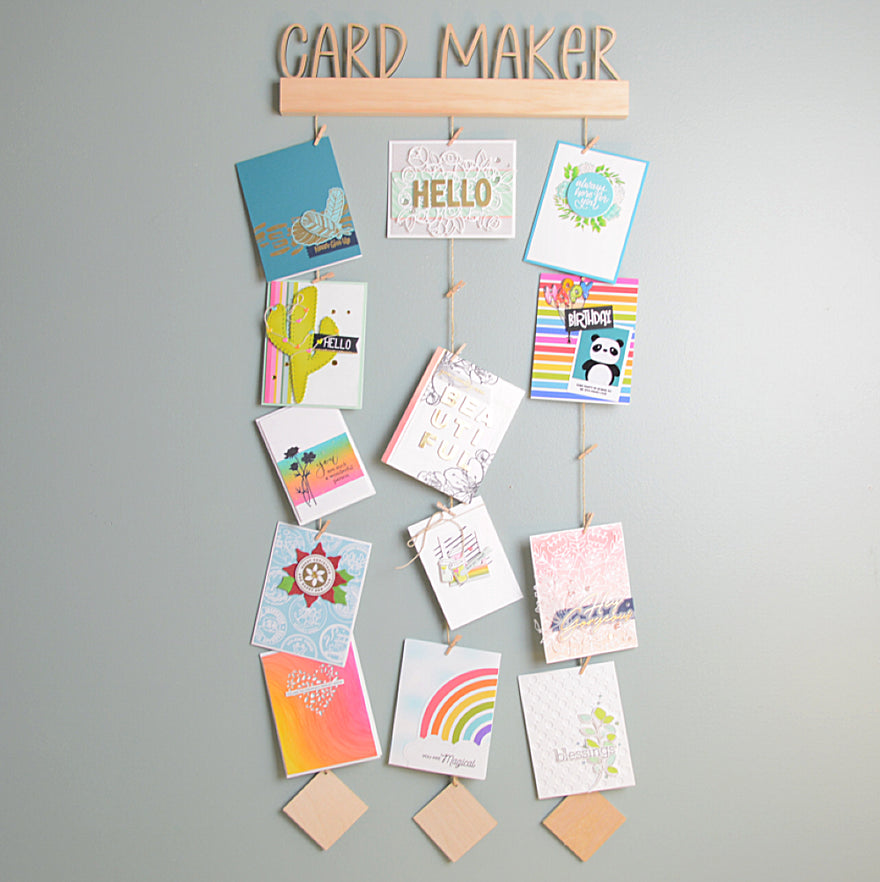 DIY Card Hanger Kit Instructions
Hi everyone!
Find out how to assemble the DIY Card Hanger Kit in this informational blog! We hope you enjoy putting together your DIY Card Hanger and hanging your favorite cards! 

1. Take one of the "Diamond" shape wood cuts and thread one piece of twine through the hole. Then tie a knot to secure it in place. 
Continue this process with the other two pieces.
2. On the bottom of the wood header, there are three small holes. Thread the other end of the twine through this small hole first.
Then, come out through the larger opening on the back of the wood header.
3. Pull out the twine string far enough so you can easily make a knot. Once this knot has been made, it will keep the string in place. 
(This is the part you can adjust the string to your preferred length.)
4. Now you are ready to hang it on the wall. Hold the shelf up to the wall and put a mark on the wall where the open holes are on the back of the shelf. Drill screw into the wall, leaving ¼" of the screw out for the shelf to attach to. (as pictured)
To mount, place the shelf over the screws and slide to the side.
If the shelf is too loose, tighten the screw closer to the wall. If the shelf is too tight, reverse the screw a bit.
5. Once in place on the wall, you can insert the title word to complete the card hanger.
The word will fit perfectly in the groove. 
Now the fun part!.....Enjoy hanging your favorite cards with the 15 "mini" clothes pins.
Thanks for reading! If you have any questions at all, feel free to contact us at support@organizemore.com
Happy Organizing!
Share a comment
Comments will be approved before showing up.