Card Easel - DIY Instructions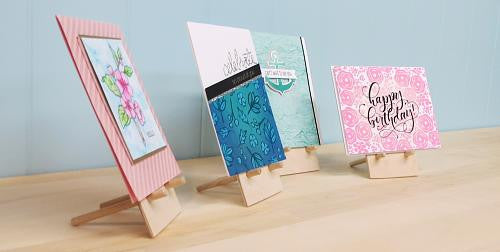 Hi there! These Card Easels are so easy to set up that you'll want to take them everywhere...especially to show off those beautifully made cards! The Easels take less than a minute to set up and can be easily disassembled too, making it perfect to take to those crafting events you attend or setting up to host a craft show!

P.S. since the easels are a part of our Smarter Cubby Kits, these easels come unfinished and can be painted! You can choose to leave the beautiful baltic birch and birch dowels, or you can show off your creative side and design/paint the easels with crafty colors!

Check out how to put these Card Easels together:
Here's all the pieces before the easels get assembled. You will have 4 easel backs and 8 dowels.
Step 1:
Place a dowel in one side of the easel until a half inch is sticking out through the other side.
This is what it should look like once you've finished step 1.
Step 2:
Place the second dowel through the easel back so that both dowels are matching. Repeat these 2 steps for every easel and just like that, you're all done!
Happy Organizing!
Share a comment
Comments will be approved before showing up.